SUN PRODUCTION
SYSTEM DESCRIPTIONS / TECHNICAL SPECIFICATIONS
MIXING CONSOLES
Presonus Studiolive Series 3 32 channel digital mixing console. Up to six monitor mixes

Allen & Heath SQ-6 digital mixing console. Up to six monitor mixes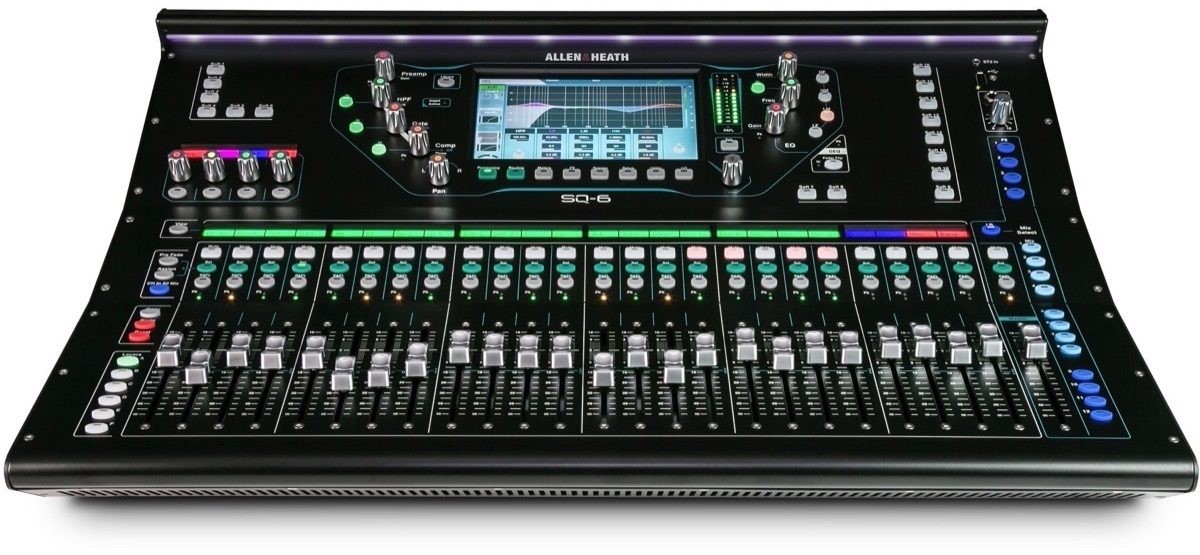 Mackie 1202-VLZ3 mixer
Presonus Studiolive AR16c live sound/recording USB mixer
American Audio Encore 2000 DJ mixer
NOTE: If there is a specific mixing console you need, most likely we can get it for you
MAIN SPEAKER SYSTEMS

:
On Point Audio Opaline multi-element LINE ARRAY speaker systems (4×8″ LF/ MF, 2×2″ HF)
Electro-Voice ETX18SP 18″ 2,000 watt powered subwoofers
Turbosound Milan M12 12″powered speaker systems. Peavey RBN112 12′ powered speaker systems with ribbon HF drivers Tripod stands

MONITOR SPEAKER SYSTEMS
QSC E10 speaker systems
Turbosound Milan M12 12″ 1,100 watt powered speaker systems. Peavey RBN-112 powered speaker systems
POWER AMPLIFIERS
QSC GX7 power amplifiers 1100 wpc
SAE TX500Q four channel power amplifiers 750 wpc @ 4 ohms x 4
Carver PT-1250 – 650 WPC @ 4 ohms (multi-use)
OUTBOARD SIGNAL PROCESSING / EFFECTS
Ashly Protea digital quad 31 band equalizer system
Sabine GRQ-3102 GRAPHI-Q digital 31 band equalizers with FBX (for FOH)
Sabine GRQ-3122 GRAPHI-Q2 digital 31 band EQ's with FBX (for monitors). Behringer Quadcomp four channel compressors
TC Electronic M350 multi-effects processor
8 channel pressbox
MICROPHONES
E-V N/D series – 967, 767, Audix OM5, Heil PR-22, Sennheiser E945 vocal mics. Shure Beta 57, EV Re200, CAD 95 condensers, Sennheiser E902 kick drum mic. CAD TSM drum mic series. Various straight and boom stands.
WIRELESS MICROPHONES
four Mipro ACT 3 frequency agile wireless UHF mic systems with handheld condenser mics, lavalier and headset mics.
Electro-voice RE3 handheld / lavalier wireless mic system
AKG WMS 450 – handheld wireless system.
SNAKE CABLING
one Whirlwind 150′ 20×8 channel snake, one 50′ 8ch sub-snake
two 50′ 8×4 channel sub-snakes. One 50′ 12×8 channel snake One 35′ 4-channel sub-snake
VIDEO PROJECTION:
Optoma EH416 4200 lumen HD 1080P projector. Da-lite 100″ roll-down screen. Various size Tripod screens.
STAGE LIGHTING:
eight Blizzard 7×15 Hotbox RGBAW par cans, four 12×5 200 watt LED PAR cans. Tripod stands
PORTABLE RECORDING GEAR:
Presonus Studiolive ARc-16 USB recording / live sound mixer.
Dell Latitude E5530 laptop with Studio One 4.5, Audacity, Cakewalk DAW software interface. Studio One, Pro Tools
SOLAR POWER GEAR: Four DM Solar 165 watt solar panels. Midnite Solar "the KID" 24 volt 30 amp charge controller. Exceltech 1100 watt 24 volt pure sine wave inverter.
1100 watt 12 volt watt pure sine wave inverter. Renogy Wanderer 30 amp 12 volt charge controller. Two 12 volt Deep cycle batteries
400 watt/hour solar inverter/charger/powerbox.